Southampton SAB works closely with other Safeguarding Boards in Hampshire, Portsmouth and the Isle of Wight so that practitioners across the areas from all services can share policies, procedures, tools and guidance which set out how local agencies will work together. Collectively we are known as the '4LSAB'. The purpose of the 4LSAB policy and guidance is to support staff to respond appropriately to all concerns of abuse or neglect they may encounter, providing a consistent response across the county. The policy and guidance documents are updated regularly, please check using this link:
4LSAB Safeguarding Adults Policy and Guidance
On viewing the link you will find that the guidance is divided into four sections:
4LSAB Safeguarding Concerns Guidance
The purpose of the Safeguarding Concerns Guidance is to support the decision making and reporting of adult safeguarding concerns, in order to impact positively on outcomes for people with a need for care and support, who are at risk of or experiencing abuse or neglect. This framework sits alongside the 4LSAB Multi-Agency Adult Safeguarding Policy, Process and Guidance 2020 and draws on the Care Act 2014 and accompanying statutory guidance and connects to the LGA and ADASS framework 'Making decisions on the duty to carry out safeguarding enquiries' which can be viewed here. This multi-agency framework promotes:
Personalised approaches which balance well-being with safety and prevention
Engagement with the adult about how best to respond to their safeguarding situations in a way that enhances their involvement, choice, and control
An adult's rights, ensuring that those who lack mental capacity (as well as those who have capacity) are empowered and included within safeguarding support
Empowering people so that they are partners in understanding and managing risk in their own lives
An emphasis on the need for transparency and openness in managing conflicting outcomes (both of the adult and between the adult and professional organisations)
The role of advocacy in all of the above.
Adult Safeguarding Concerns Framework – eLearning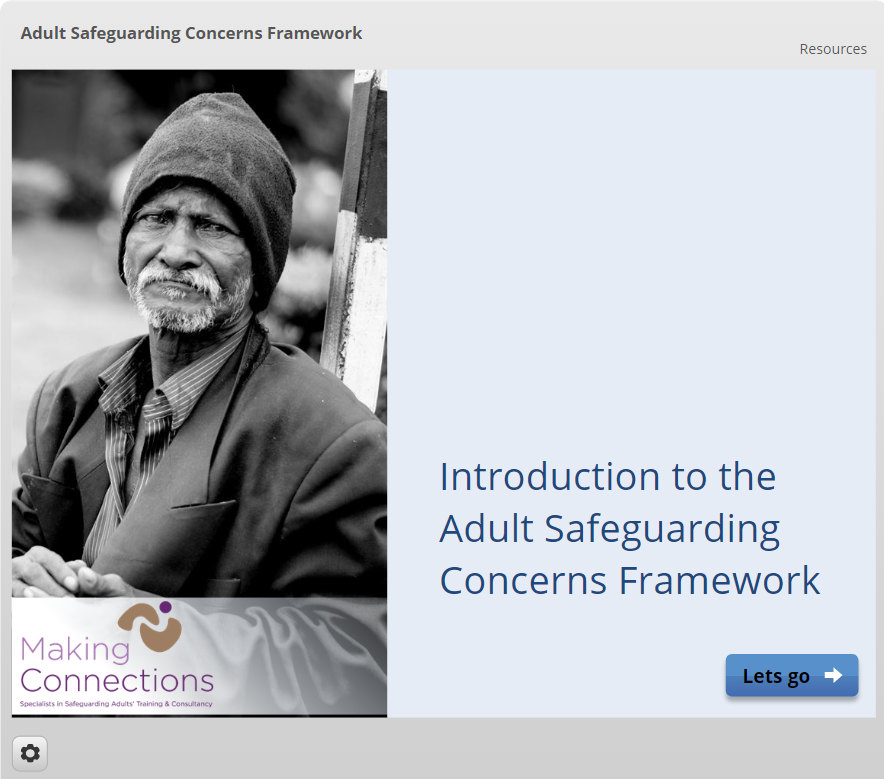 The LGA have also produced the following quick guides which supplement the 4LSAB guidance:
4LSAB Self Neglect Policy and Resources
When an adult who may have needs for care and support appears to be at risk of self-neglect, and may be refusing care and support or whose self-neglecting behaviours pose a risk to others, it can be difficult for practitioners or concerned carers, friends/family members, to understand how statutory duties and legal powers could be applied to improve the Adult's situation. The following policy and resources have been developed to provide guidance practitioners on how to work with individuals who are identified as suffering from self neglect:
4LSAB Safeguarding Adults Escalation Policy
This Escalation Protocol should only be used within safeguarding practice, not for other matters, such as assessment for more general care and support needs, eligibility for care and support and funding of care and support needs are outside the scope of this process. Individual practitioner performance is also outside the scope of this document. Also, the adult subject to the safeguarding concern and/or their representative should, wherever possible, be aware of the dispute and have an opportunity to express their views and wishes, in particular, that in raising a dispute, the worker has full consideration of the adult's wellbeing.
4LSAB Multi-Agency Safeguarding Adults Escalation Protocol July 2018
4LSCB and 4LSAB Family Approach Toolkit
Southampton LSAB also works closely with the partnerships which work together to safeguard children in the city and across Hampshire. The pan Hampshire Local Safeguarding Children and Adults Boards have together developed a 'Family Approach' Toolkit. This is in response to learning that local services need to see the whole family in terms of responses to ensure assessments and actions are effective in responding to improve safeguarding outcomes for children, families and adults with care and support needs.
To access the Family Approach toolkit please click here.
Skills for Care
Nationally Skills for Care provide practical tools and support to help adult social care organisations and individual employers in England recruit, develop and lead their workforce. Find out more at www.skillsforcare.org.uk